At the Nandu Power 2013 annual performance briefing, Nandu Power Finance Director and Secretary-General Wang Yingjiao said on Monday that the sales of electric bicycle batteries in 2013 was 1.6 billion, the profit was 83 million, and the sales of new energy vehicles were about 30 million.

For the lithium battery for new energy vehicles that are highly regarded by the market, Wu Xianzhang, the company's chief engineer, said that the company's new lithium-ion film technology is now in the batch verification stage and has not yet been used for mass production.

Chen Bo, general manager of the company, said that the company's lithium battery has increased in overseas and domestic markets in 2013. The contribution from overseas markets is particularly prominent. The company has further strengthened its lithium battery promotion and actively expanded the application fields of lithium battery products. To ensure the development of lithium battery business.

Regarding whether to cooperate with Tesla, Chen Bo said: "Tesla intends to build a large-scale battery factory, and the company has no cooperation plan at present."

When it comes to the relationship between the development of new energy vehicles and the development of the company, Chen Bo said that the company attaches importance to the development of the new energy automobile industry. The development model and plan of China's new energy vehicles are still not mature, and the company is also actively evaluating and following up. Targeted market and technology investments.

Chen Bo further said that the new energy vehicles include hybrid vehicles and pure electric vehicles. The two schemes and development models are also different. From the perspective of the feasibility of personal consumption of new energy vehicles, short-term hybrid vehicles are more realistic.

"Battery is the focus of the company's future development in the field of power and energy storage. In the electric bicycle battery market, the company's production and sales have been improving, and the company hopes to further develop in this market." Chen Bo said.

Nandu Power's 2013 annual results forecast shows that the net profit attributable to shareholders of listed companies has changed by 0%-20% over the same period of the previous year (profit of RMB 12,608,100 – RMB 1,513,700,000). It is estimated that the company's net profit attributable to shareholders of listed companies in 2013 was 13,046,200 yuan, an increase of 3.47% over the same period of 2012, which is within the expected range of company performance forecast.

our dished heads are used in a variety of applications and industries such as storage tanks, pressure vessels, road tank, food processing operations, chemical plants ,Nuclear operation, Oil Refining, Architectural feature, power generation.

Due to our forming experience and equipment, we can spin or press the first part of the process of forming your products, It depend on the thickness and material performance,

Our main products are 2:1 SE dished heads, Torispherical heads, Cones,Hemispherical Heads etc

Choosing the right type is the key decision for each customer and one for which our experience team to happy to give advice, simple speaking, the torispherical heads, the less ressure it can withstand, Conversely, the deeper dished heads, for example Elliptical heads, hemispherical, the greater pressure it can take.

Our in house-capability to form dished heads by cold press brings major benefits to our customers and sets us apart from others dished heads manufactures

For carbon steel dished heads, we can forming this dished heads from 76-9000mm in diameter and below 250mm in thickness

The general forming process as the below sketches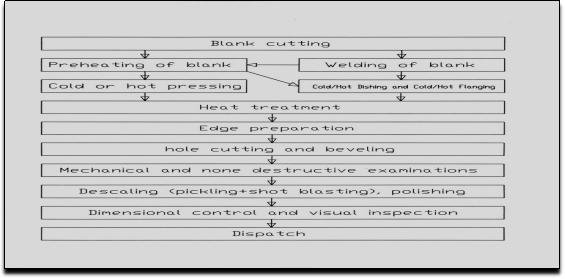 Technical Delivery Condition
1,Our material (hot Rolled Unalloyed structural steel, high and low temperature steel, High Alloy steel)
We have no carbon steel plates in our stock and most of plates are from Chinese steel market or mill. Meanwhile As Japanese owed company, We can also source the plates from Japanese ex-mill if end user can`t accept ex-chinese mill.
Basically the delivery time shall be below 20days for dished heads if plates are from steel market. and Max plates width from them is below 2200mm. it means that the seamless dished heads diameter shall be below about 1800mm.
The max width CS plates that Chinese mill can do is below 4700mm,and dished heads can be seamless below 3800mm in diameter.




2,Enquiry/order required information

We can give our clients once they gave us the below information

But if clients tolerance is higher than below Hokkai standards, it shall be provided to Hokkai prior to offer or ordering.



Stainless Steel Dished Only Head

Stainless Steel Dished Only Head,Dished Only Dish Head,Dished Only Shape Head,Best Stainless Steel Dished Only Head

YIXING HOKKAI HEAD PLATE CO.,LTD , http://www.hokkaidishedend.com