China's drying industry is characterized by small, weak, non-professional, and unsophisticated enterprises. The quantity is large and the overall quality is not high. Most enterprises are lagging behind in management and do not achieve the appropriate economies of scale. They should guide and coordinate through industry associations and change the blind development. situation.

Relatively concentrated enterprises in Jiangsu, Zhejiang, and Shanghai can consider the use of joint ventures, cooperation, and acquisitions to migrate to the central and western regions in search of a broader space for corporate survival and development. Enterprises must become the main body of technological innovation and should directly cooperate with these universities and research institutes in various forms to make resources be reasonably allocated and utilized, and to effectively cultivate and develop the innovative capabilities of enterprises.

Industry insiders point out that in the future, the development of drying equipment in China will present five major trends. First, the comprehensive application of several forms of heat transfer, so that in the different stages of drying play the advantages of various forms of heat transfer, so that the use of drying equipment can be more reasonable; Second, the equipment will be to large-scale development; Third, drying equipment Will achieve specialization; Fourth, will tend to multi-stage and combined drying system development; Fifth, the device will achieve multi-functional. In the course of development, we will continue to develop along the future trend.

Light Tower is normally used for night lighting in municipal,highway bridges,ports,mines,construction sector construction and other fields, and also suitbable for night repair and disaster scene.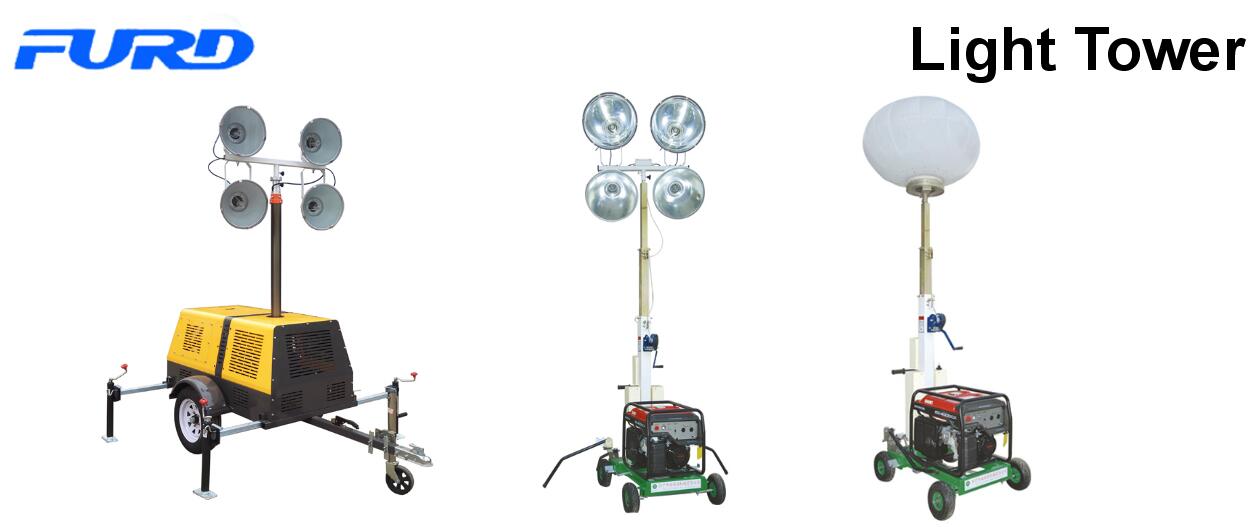 FURD trailer mounted light tower:

- Metal halide lamp and LED lamp optional

- 6 meter or 9 meter safe and quick mast;

- China diesel generator or Honda gasoline generator, high performance;

- Large service dimension for easy maintenance;

- Easy to move with trailer types.

FURD walk behind light tower and Balloon Light Tower:

- Famous motor and generator, excellent performance, start easily;
- Metal halide lamp has long service life;
- Anti-fall, safe and solid;
- Hand-operated winch, lockable at any moment;
- Elevating frame is made of Stsainless steel square pipe;
- Elevating frame can rotate, east for light waving, overturn to intake,transport and store;

- Plastic treated, anti-rust, anti-corrosion and beautiful.




FURD factory also produce the below machines:

Vibratory Road Roller Laser Screed , Power Trowel , Road Repair Machine, Road Marking Machine.

For more information of our products, please feel free contact with us, we are at your service for 24 hours.

Light Tower

Light Tower,Led Light Tower,Outdoor Light Tower,Industrial Light Tower,Emergency Light Tower

Jining Furuide Machinery Manufacturing Co., Ltd. , http://www.furdroller.com